From the Pastor's Pen
DETOUR COMING FROM ALBION
DUE TO BRIDGE BEING
REPLACED. SEE MAP BLOW.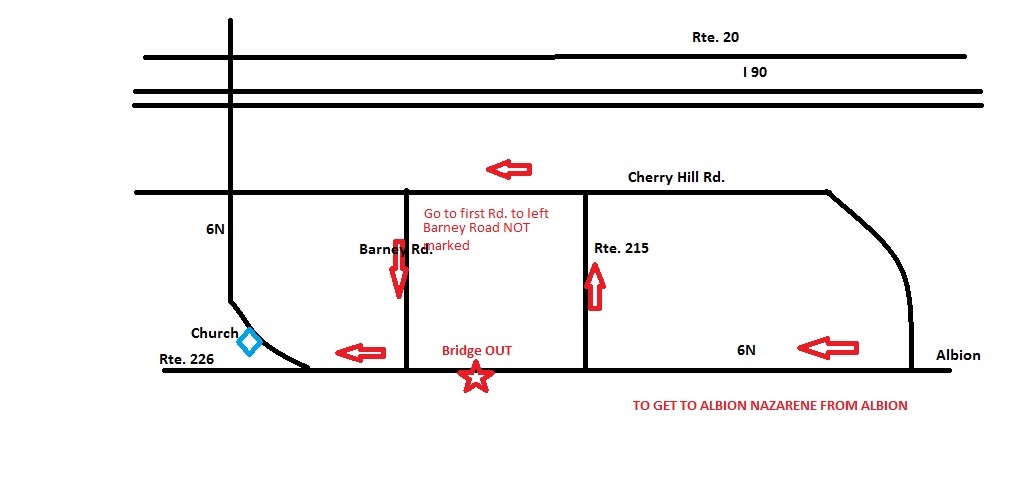 August 2015
Dear Friends,
Summer is upon us with all of its joys! We had another great campout at the church in what looks to become an annual event. Many good things happened through the campout, except for John's injury. Keep him in prayer as he recuperates from a torn ligament in his leg. The "Do You Believe" movie was excellent and I'm sure caused many to think. We will show it again for those who weren't able to be at the campout.
Many of you are travelling and enjoying some vacation time. We pray for your safety and relaxation. We have quite a few people who will be at Pittsburgh District Family Camp during the last week of July into the first weekend of August. May you be rejuvenated in your spirit as you worship and grow in Him. Vacation Bible School is fast approaching and promises to be another great outreach opportunity for Christ in our communities.
Even on Sundays where many of you are away, we continue to have decent attendance and very good services. Thank you to all who step in to cover for those who are away. Keep us in prayer and remember ON-LINE GIVING! The church's expenses are the same even when you are gone, so please remember the church in your giving, as well as in your prayers. Just go to our website at www.albionnazarene.org and click on the icon for on-line giving and follow the instructions for this secure way to give. You also have the option to set up an ongoing donation where it is done automatically at the intervals that you would choose. The church pays a small percentage for this service, but we consider it worth it to make it easy for you to give in a society where more and more financial transactions are done electronically.
COMMUNICATION: We were reminded by one of our good members at our last church board meeting that we need to keep you all in the loop of what is happening in the church and of projects that we are working on. We are taking steps to better communicate with you so that you can see where you can get involved and what you can be praying for. One of those areas where we will communicate better is related to BUILDINGS AND GROUNDS. We have several major projects that we are looking toward. We are having problems with a roof on the church that is showing signs of wear (leaking). We are having an architect look at the building and give us specs on what we need to do as far as ventilation and the best roofing material to go with. This may include adding an overhang such that we can have ventilation from soffit vents. We will then proceed to get quotes based on those specs. We may be able to split the project into 2 years in order to raise the funds needed in two fund-raising events.
We were able to put the top-coat on about one third of the parking lot a couple of years ago and we need to do the same for the remainder of the parking lot and the driveway. Again, we are talking some major expense, but we must take care of what God has given to us and sections of the blacktop are deteriorating due to not having the topcoat.
On out into the future (but hopefully not too far, we will need to look at refurbishing or replacing the siding on the church, perhaps with a different material that will not require the level of maintenance that the 35 year old wood does that is on there now.
Inside the building we are working on getting a large hood/exhaust vent for the commercial range that we have in the kitchen.
What is that stone pedestal in the front oval??? It is the start of the bell tower that was constructed by Randy Hites, and Clair and Michael Henley. Money has been donated specifically to have a functional bell tower at the church. It should improve the first impression people have when coming on the property and further identify the building as a church! (NO, it's not a horse-riding arena as someone thought awhile back).
So, be in prayer about these projects. Where might you be able to help out? We continue to be about our mission of being and developing Disciples of Christ, but we must take care of the facilities where many of our ministries happen!
Our Sunday School Ministry Council is looking at starting a Parent/Grandparent Support Ministry. We have a great need for this in the church and in our communities. Pray that we will discern exactly what God wants us to do and equip us to do it.
Yes, we are still riding the wave and need "All Hands on Deck" (see the July newsletter)! God continues to do great things in peoples' lives! Let's keep growing in Him and reaching out in love!
In Christ's Love,
Pastor Wayne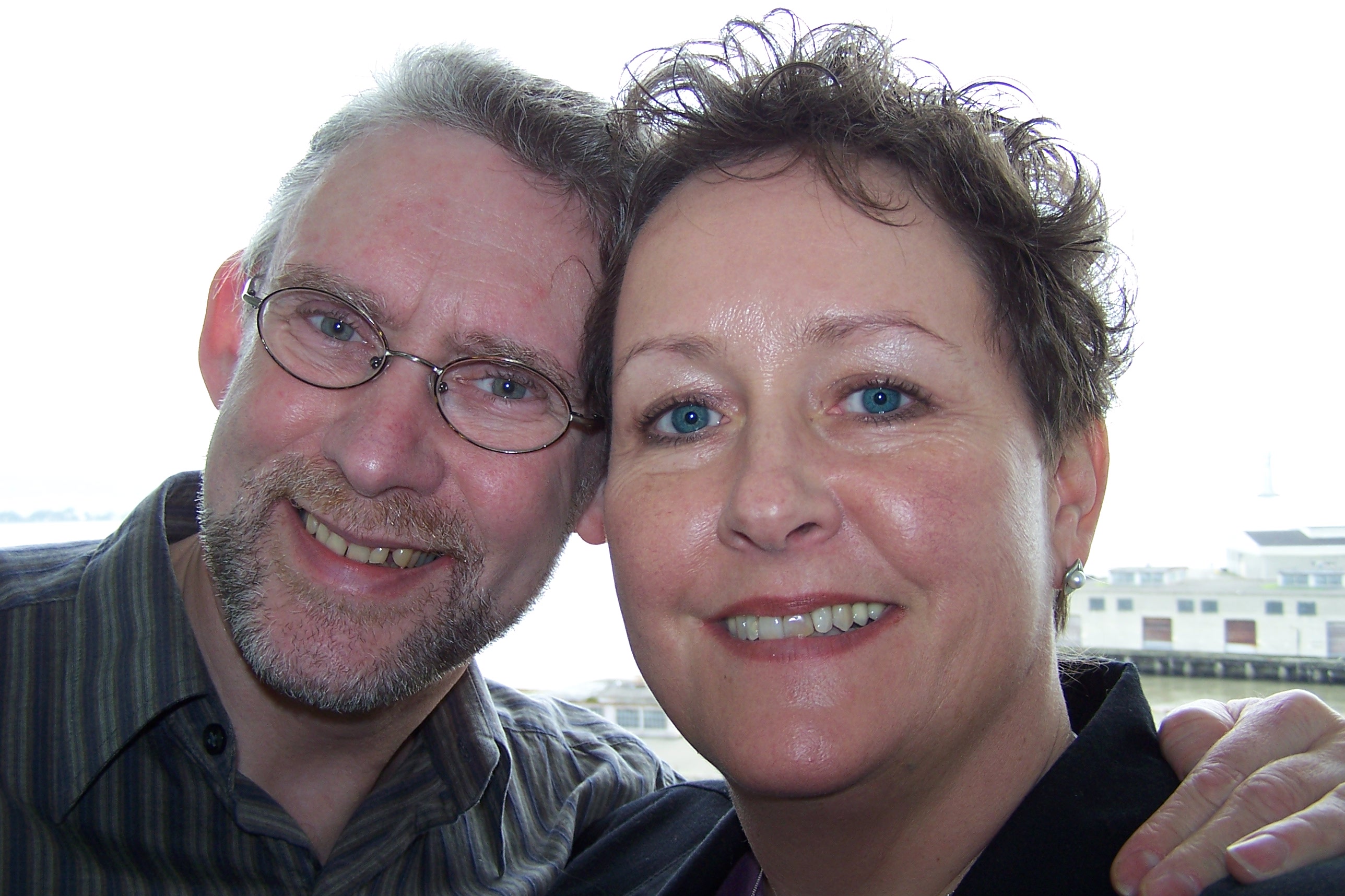 Tithes & Offerings
Online Giving - This safe and flexible option is one of the easiest ways to give at Albion Church of the Nazarene. This method allows you to schedule a recurring or one-time gift drafted from your bank account. To give click on the red Donate E-Giving bar below.
"Bring the whole tithe into the storehouse, that there may be food in my
house. Test me in this," says the Lord Almighty, "and see if I will not
throw open the floodgates of heaven and pour out so much blessing
that there will not be room enough to store it."
Malachi 3:10
iGive
Also from the Pastor: There is a way that you can help to support your church that will not cost you anything except a few minutes of your time!
This is available to all of you who are online and can include your friends and family members who don't even attend your church! The organization is called iGive and they have given $6,256,703.91 to charitable organizations. Right now there are 8 of us from the church who have joined and we have made $56.16 for the church since we started joining in February 2012. Here's what happens. You go to the link on their site for our church and you sign up. You allow them to put an icon on your web browser toolbar. Then, when you go online to make a purchase, you will be automatically informed what percentage of your purchase will go to your church. The church will receive $5 just from you joining and then $5 more after you make your first purchase through iGive. You pay the same price for your online purchase and the stores make a donation through iGive to your church. Hundreds of sites will donate to our church through shopping that you may already be doing. Purchases such as clothing, travel, hotels, and books are just a few of the ones that can count toward the donation to our church. Carol and I just stayed at a Comfort Inn in Arlington, VA for 5 nights and about 3% of our expense is being given to the church!
I encourage you to sign up and get your friends and family members to do the same. People can even show up on our list of supporters as "Anonymous" if they prefer. If you have any questions or need help, please let me know.

Click on the above iGive button or you can go directly to the iGive site with this web address: